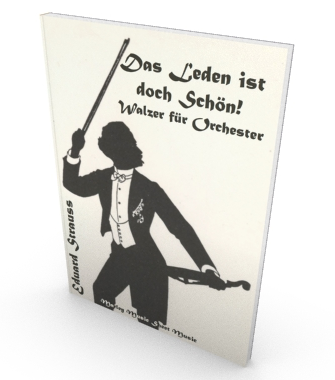 Das Leben ist doch Schön
Eduard Strauss (1835 – 1916) was one of the three sons of the famous Johan Strauss. He ended his diplomatic career to join the family business of composing and preforming polka's, marches en waltzes. From 1870 he waved the baton in front of the family orchestra. Tired of the waltz, he disbanned the orchestra in 1901 but not after building a reputable repertoire of orchestral dances himself.
This is his famous waltz Das leben ist doch Schön (Life is beautiful after all). We're proud to say that we were able to correct many errors you find in other publications of this piece.It was a hell of a job, but here you have an error free version of this wonderful waltz. Enjoy!
Salon sheet music for Orchestra (90 pages, score and parts). Score and parts for: Piccolo, Flute, Oboe, Clarinet in Bb 1 and 2, Clarinet-alt, Bassoon, Horn in F 1 till 4, Trumpet in C 1 and 2, Alto- Tenor- and Bass-Trombone, Percussion, Harp, Violin 1, Violin 2, Viola, Cello, Double Bass.
See the first three pages of the score here!