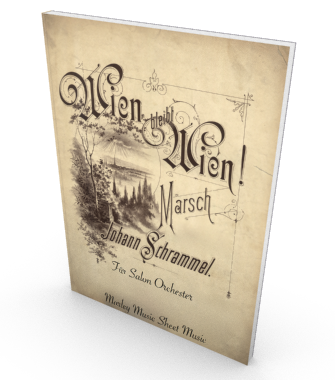 Wien Bleibt Wien
Wien bleibt Wien is without doubt the most famous work of the composer and clarinettist Johann Schrammel. It is the cheerful marching music that Schrammel, as a member of the Military Chapel of the Dragoon Regiment No 2, could compose like no other. In his later life, Schrammel captured the hearts of the Viennese with the catchy music he played with his Schrammel Quartet.
Newspaper articles from 1885 show that even Johannes Brahms was a great lover of the Schrammel music:
After the Schrammeln had played several Viennese songs and dances, they also played an American song that was popular in Vienna at the time: 'Ta-ra-ra-boom-de-ay'. When the syllable 'boom' was played, the audience beat with a walking stick or a beer glass on the table to the beat. On this day, I could see Brahms full of overflowing joy, beating the time with his umbrella whenever the 'boom' was heard.
Well, if Brahms agrees with his music, who could possibly be against it?
Score and parts for Flute, Piccolo, Oboe 1&2, Clarinets in Bb 1&2, Bassoons 1&2, Horns in F 1-4, Trumpets in C 1&2, Trombones 1-3, Tuba,Timpani, Percussion, Piano, Harp, Violin 1, Violin 2, Viola, Cello, Cello Obligato, Bass.
See the first two pages of the score here!

Salon sheet music for Orchestra (34 pages, orchestration: 1+picc,2,2,2 – 4,3,3,1 – 1,1,1+harm – str).