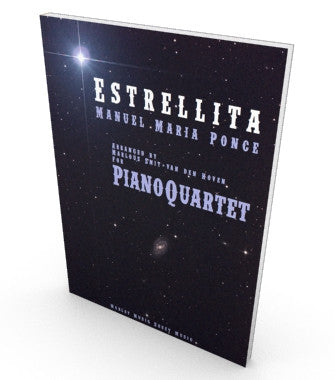 Estrellita (Little Star)
Manuel Maria Ponce composed his most famous work Estrellita (Little Star) in 1912 while working at the National Conservatory of Music in Mexico where he lectured piano and music history.
Estrellita is a sentimental little piece, originally sung by a woman who obviously suffers from an overdose of nostalgia. The song tells the story of a female who confides in her little star about the hidden love she feels for an unnamed man.
The song was made famous when performed by violinist Jascha Heifetz in the 1939 Archie Mayo film They Shall Have Music. And that is what you shall have when you buy this beautiful arrangement of Ponce's magnum opus, arranged for piano quartet.
Parts and score for violin 1 & 2, cello and piano.
See the first two pages of the score here!