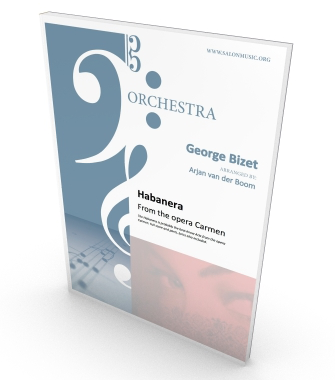 Habanera from Carmen
What would Carmen have been without the Habanera? A dry Martini without an olive? The Big Lebowski without Walter Sobchak? Miss Universe in a burka-contest? You get the picture: not much. Carmen is Georges Bizet's best-known work. And the Habanera is the best-known Aria from that opera.
In the opera Carmen, a woman of questionable reputation transforms a normally sensible man into an idiot. Nothing-new here. Surrounded by cigarette-girls she keeps him in suspense, singing:
When will I love you?
Good Lord, I don't know,
Maybe never, maybe tomorrow.
But not today, that's for sure.
Then, after she ruined his life, she runs of with a toreador. Typical.
So, Carmen may be a tart, the Habanera certainly is not. Arjan van der Boom painfully engraved this appealing aria to perfection. We are convinced you won't find a better transcription elsewhere.
Score and Parts in PDF. See the first three pages of te score here!