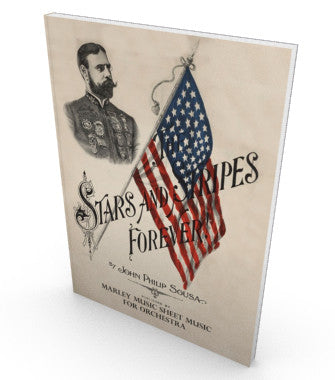 Stars & Stripes Forever!
Rock & Roll, The Statue of Liberty, Mac Donald's, Disney and warm apple-pie with a scoop of vanilla ice, what could possibly be more characteristic of the US than these? The answer is: Stars & Stripes Forever of course. The masterpiece of John Philip de Sousa, one of the most famous Marches he ever composed.
At the age of 6, John Philip received lessons for singing, violin, piano, flute, cornet, baritone/euphonium, trombone and alto horn. Apparently, his parents had difficulty making choices. At the age of 13, his father (who was himself a trombonist) placed him as an instrumentalist in the United States Marine Band The President's Own. Eventually, in 1880, he became conductor of this prestigious military orchestra.
Salon sheet music for Orchestra (59 pages, score and parts). Score and parts for: Piccolo, Flute, Oboe, Clarinet in Bb 1-2, Bassoon 1-2, Horn in F, Trumpet in C 1-2, Trombone 1-3, Percussion, Piano, Violin 1, Violin 2, Viola, Cello, Double Bass.
See the first three pages of the score here!