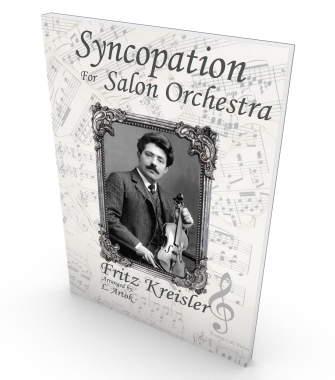 Syncopation
Together with Jascha Heifetz, we consider Fritz Kreisler one of the greatest violinists of all time. Often considered to be the inventor of the continuous vibrato, Kreisler was known for his emotional and warm style. He composed a large number of pieces for performance. Undoubtedly, you know his two most famous pieces Liebeslied and Liebesfreud.
Syncopation, a light hearted piece of Kreisler, is skilfully arranged by Leo Artok. Leo Artok is the pseudonym of Lothar Windsperger, a German composer and publisher of sheet music. Although a virtuoso arranger, his own compositions were not well received. Of one of his orchestral compositions, a German newspaper once wrote:

"He only caused the indignation of all well-meaning; this concert was an assassination attempt on the goodwill of the audience."
But be assured, Syncopation will put a smile on the face of even the most moody listener in your audience. Salon sheet music for Orchestra (38 pages, score and parts).
Score and parts for: Flute 1&2, Oboe 1&2, Clarinet in Bb 1&2, Bassoon 1&2, Horn in F 1&2, Trumpet in Bb 1&2, Trombone 1-2&3, Timpani, Percussion, Piano, Harmonium, Violin Obligato, Violin 1, Violin 2, Viola, Cello, Double Bass.
See the first two pages of the score here!