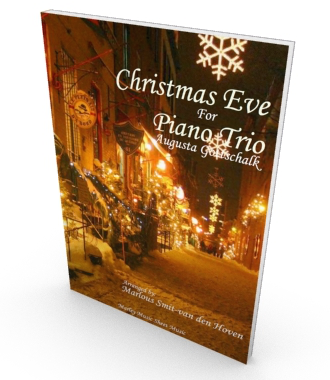 Christmas Eve
It was Louis Moreau Gottschalk who must have passed on his musical talents to his daughter Augusta. You won't find much information about the latter. All we did emerge were a couple of newspaper clippings about a piece published by Augusta.
Her father, on the other hand,  seems to have been a more colourful man. In 1885  he chose for a self imposed exile from the US after it became known that he helped two young ladies to escape from their boarding school at night to have a romantic tête-à-tête (if it remained at that).
But anyway, while her father was putting the flowers outside (old Dutch saying), Augusta composed this wonderful Polka, Christmas Eve, the evening of expectations.....
A beautiful piano trio, score and parts for piano, violin and cello.
See the first two pages of the score here!