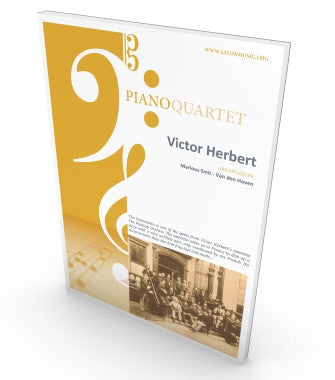 Canzonetta
Victor Herbert made more miles than most of his contemporaries. While my grandmother probably never left her hometown, Victor was an Irish-born, German raised American composer. He was a gifted cellist and conductor, composing many operettas that were preformed on Broadway, working close together with John Philip Sousa, Irving Berlin and other famous American composers.
The Canzonetta is one of the gems from Victor Herbert's operetta The Madcap Duchess. The operetta takes us to France to dish up a story with a very unlikely plot, only swallowed by the French. No surprise here, they also love frog legs and snails....
The Canzonetta however is a delicious piece, often arranged for various ensembles. But never as skilful as done by our own Marlous Smit – Van den Hoven for piano quartet.
Piano quartet, parts and score in PDF. See the first page of the score here!