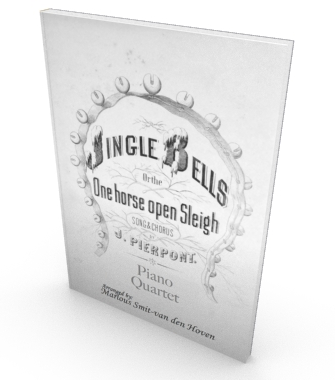 Jingle Bells
For the son of a pastor of the Unitarian Church, James Lord Piermond lived quite an eventful live. At the age of 16 he ran away from his boarding school to sign on a whaling ship called The Shark. Later on he joined the Navy.
After settling down in the mid 1840s, he opened a tar and feather business in San Fransisco during the California Gold Rush together with his father who, as we may take it, left his congregation to dance around the golden calf himself. It was not a success as evidenced by the lyrics of Piermonds song The Returned Californian:
There's my tailor vowing vengeance and he swears he'll give me Fitts,
And Sheriff's running after me with pockets full of writs;
And which ever way I turn, I am sure to meet a dun,
So I guess the best thing I can do, is just to cut and run.
From then on, things turned for the better for James. He wrote several hits, some with lyrics we don't find that tasteful anymore. In 1857 his song Jingle Bells – or The one horse open sleigh as it was called originally – was published. Although it wasn't a hit in his time, the song has become the most recognizable song of the Christmas Holidays in our time.
So jingle along with us with this beautiful arrangement by Marlous Smit-Van den Hoven for piano quartet. Score and parts for piano, violin 1&2 and cello.