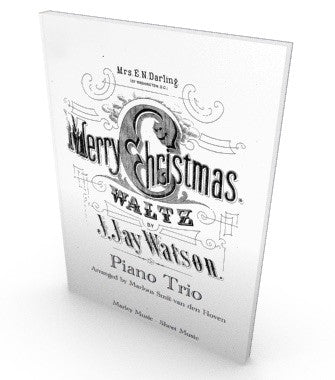 Merry Christmas Waltz
Arthur Conan Doyle was completely wrong when he claimed that it was Sherlock Holmes who played the violin. It was generally known that Watson – in our case John Jay Watson – was known for his exceptional talent in paying the violin.
In Gloucester, where he was born in September 1830, he made his first public appearance in a theatrical performance. In 1850, his health was such that he was advised to take a sea trip. At sea he made himself useful by entertaining the men with his music.
The trip turned out to be not that healthy after all; during a storm the ship was driven ashore and Watson was only able to save his violin. After that, he accepted the position as the leader of the orchestra at the Lowell Museum. Shortly after that, the museum burned down. One can say he was not born under a lucky star and definitely not the one you want to find yourself with when a little luck is needed...
On Christmas Day 1850 he married Amaila Parsons. Maybe it was then that he composed his Merry Christmas Watz.
Arranged for piano quartet (piano, violin 1&2 and cello). See the first two pages of the score here!