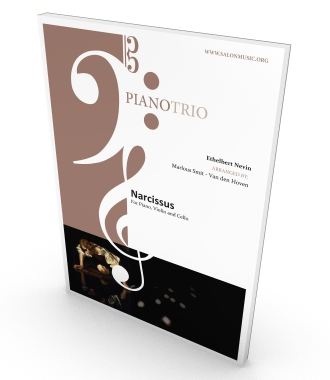 Narcissus
In the Greek mythology, there was a guy who was so full of himself that he kept looking in a pool just to see his own image. The Greek named him Narcissus. We would have called him a politician, banker or lawyer.
Narcissus is a piece composed by the American composer Ethelbert Nevin. Born in Vineacre (1862), he enjoyed his first piano lessons by his mother, starting at the age of four. He studied in Dresden, Boston and Berlin and became a well known performer.
Narcissus is the fourth of the five pieces in his suite Water Scenes. When published in 1891, it became an imminent success, selling over more than 125.000 copies. And no wonder. It floats like a water lily on a beautiful pond....
Parts and score in PDF for Piano Trio (Piano, Violin, Cello). See the frist two pages of the score here!