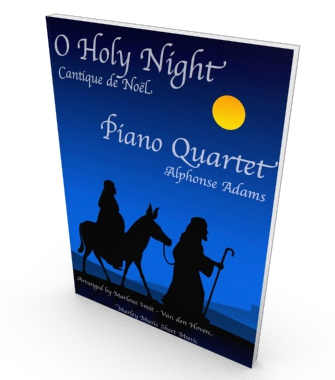 O Holy Night (Cantique de Noël)
The well known Christmas Carol O Holy Night, composed by Aldolphe Adam in 1847, is based upon a poem by the wine merchant Placide Cappeau. Whether or not the latter found his inspiration in his merchandise or not, it is highly spiritual stuff!.
Preformed around the world every year when Santa is in town, this is a piece that will bring your audience in the Christmas spirit. Now a beautiful arrangement by Marlous Smit- Van den Hoven for piano quartet.
Score and parts for piano, violin 1, violin 2 and cello.
See the two first pages of the score here!