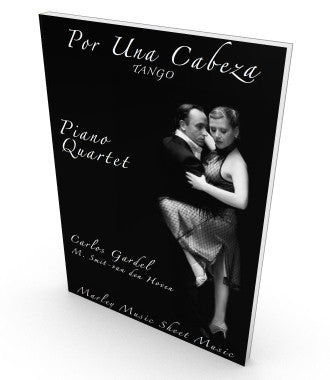 Por una Cabeza
Ever seen Scent of a Woman with Al Pacino? If so, the part you will undoubtedly remember is when Al Pacino dances a Tango with the girl who's waiting for her date... Well, they are dancing on Carol Gardel's Por una Cabeza.
Por una Cabeza, composed in 1935, was one of the last masterpieces written by Carlos Gardel. Several months later he died, together with his band, in an airplane crash. In his time, Gardel embodied the soul of the tango style. He was known as The King of the Tango and The Magician.
Hail the King of the Tango with this wonderful arrangement of one of the most loved tangos ever......
Arrangement for piano quartet. Parts and score for piano, violin 1 and 2 and cello. See the first two pages of the score here!