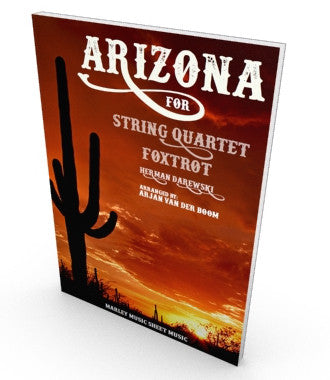 Arizona Foxtrot
Herman Darewski has probably never seen Arizona. That doesn't mean he was a homebody. Born in Minsk (Russia), he was educated in London and Vienna to become a famous British composer of light music. He even visited Australia without having a criminal record!
He published many theatrical pieces and conducted light orchestra's to entertain the bored visitors of the resorts in Bridlington and Blackpool who were visiting for a sunlit beach holiday but instead were treated to the world famous bad weather in British coastal towns....
Thinking of Arizona must have cheered them up and let them forget about their dreadful little lives. So will you after playing this wonderful Foxtrot, arranged for string quartet. Parts and score in PDF for violin 1&2, viola and cello (The viola part is also available as third violin).
See the first two pages of the score here!