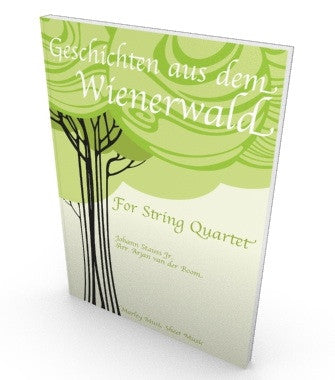 Geschichten aus dem Wienerwald
Johann Stauss Jr (1825 – 1899) was, in line with the tradition in his family, an Austrian composer of light music (Waltzes, Polka's and Marches). Now easily mistaken for a jihadist (check out his wild beard), Johann was in his time known as The Waltz King. André Rieu has a lot to thank him for.
Johann Strauss Jr composed Geschichten aus dem Wienerwald (Tales from the Vienna Woods) in 1868. The original piece featured a virtuoso part for zither. Fortunately, our arranger Arjan van der Boom left that one out.
You may also know Johann from An der Schönen blauen Donau (Blue Danube). Brahms, a fan of Strauss Jr., inscribed a few measures from the Blue Danube, and then wrote beneath it: "Unfortunately, NOT by Johannes Brahms."
See what Brahms liked about this piece and drift of to the Vienna Woods.....
The arrangement consists of a score, parts for violin 1, violin 2, viola and cello.